Ready-to-Brand, Monetize, & Publish:
Free Morning Makeover Lead Magnet Pack
Enhanced 'Morning Makeover: 7 Habits to Brighten Your Day' Lead Magnet/Short Report Created in Canva
'Morning Makeover: 7 Habits to Brighten Your Day' Lead Magnet/Short Report Word Docx
We've Done All The Work.

Just Brand, Monetize, and Publish!
Help your audience makeover their mornings with this FREE lead magnet pack that you can use to grow your email list, in your membership program, as blog or newsletter content, and much more...
This FREE 'Morning Makeover' Lead Magnet Pack Includes:
'Morning Makeover: 7 Habits to Brighten Your Day' Lead Magnet/Short Report (1290 words / 4 pages / .docx)
Enhanced 'Morning Makeover: 7 Habits to Brighten Your Day' Lead Magnet with Editable Canva Templates
2 eCover Sets with Editable Canva Templates - Each set includes a flat png image and three 3D styles
This content comes with full PLR rights, so you can edit, brand, Monetize, and publish this content under your own name. Use this gorgeous lead magnet pack as your opt-in offer, to help promote your products, and more.
All Our Done-for-You Content is Super Easy to Use and Saves You Tons of Time and Money... So You Can Stay Focused on Growing Your Business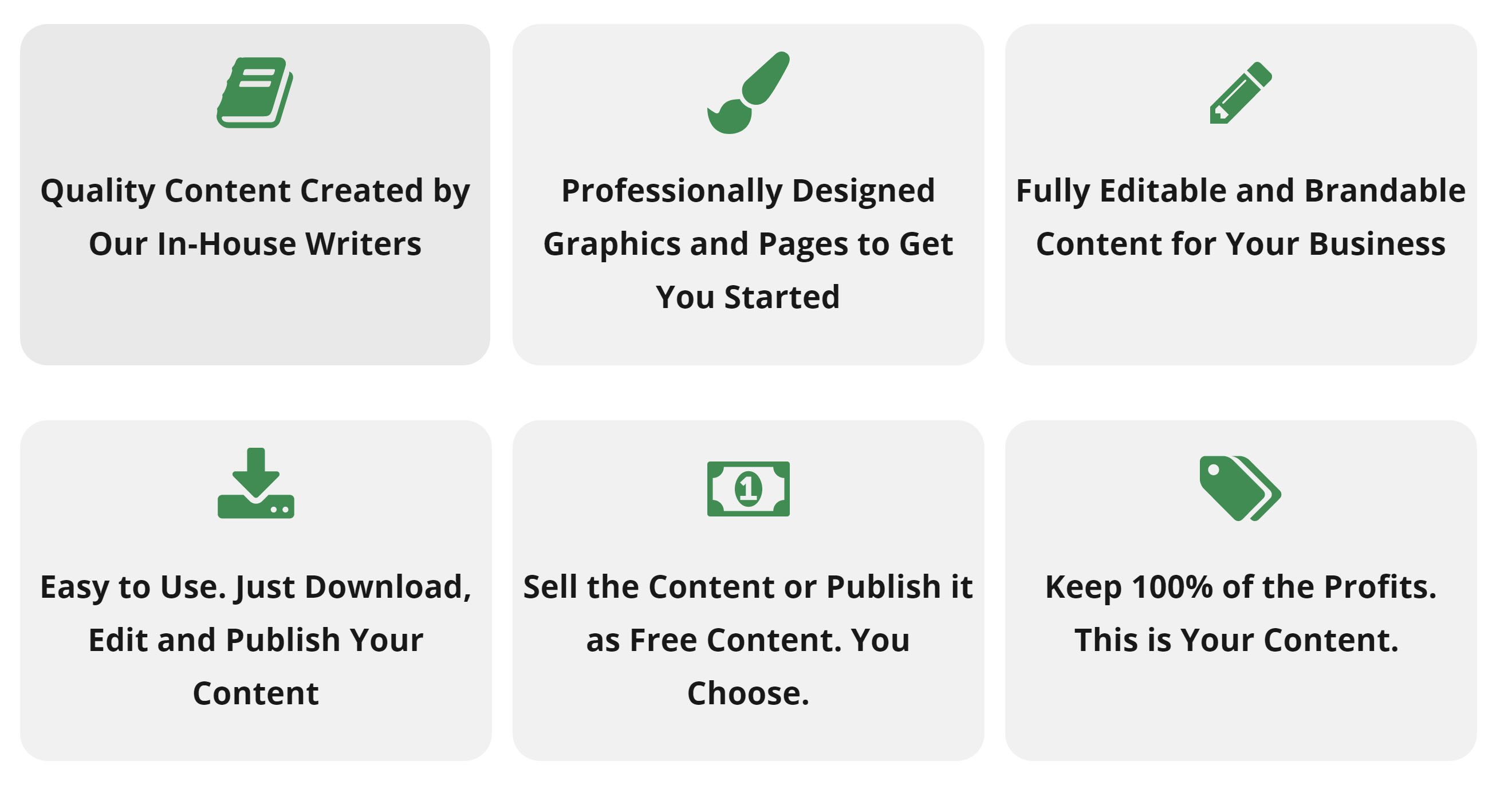 We've Done All The Hard Work…


You Just Have to Take This Content and Run with It
Imagine how much time and effort we've saved you in getting these articles created. Let's take a look at all that's involved with putting together this content on your own…
| | | |
| --- | --- | --- |
| 11-Page Editable Lead Magnet w Canva Templates | 4 Hours | $200 |
| 4 page, 1,290 word "Morning Makeover" Lead Magnet/Short Report | 3 Hours | $150 |
| 2 Sets Editable eCover Designs - one Flat + three 3D Designs per set | 1 Hours | $75 |
| | TOTAL TIME TO CREATE: 8 hours | TOTAL COST TO CREATE: $425 |
As you can see, it would take plenty of time and investment to put all this together on your own…but you don't have to. We've done the work for you and all you need to is publish the content and get it out there.
Grab it now for FOR FREE ($425 cost to create yourself), so you can save at least 8 hours of your valuable time and plenty of money to provide your readers with the information they're looking for.
It's FREE! The content will automatically be added to your Publish For Prosperity account and you'll also receive an email.
Use the content for opt-ins, publish it to your blog, social media, and more. Or sell the content as part of an information product, add links to affiliate products or promote your own products. The choice is yours!