Thanks for picking up your content. We have emailed your access information to you and you can find it in your account, but before that we'd love to give you an opportunity to get even more social media content done for you, month after month....
Announcing Our Stress-Free "Social Media Booster" Membership with Enough Inspiring and Motivating Content for Multiple Posts Each

and

Every Day
We've Done All the Hard Work and You Keep ALL the Profits
Or keep reading for full details...
This is Ready-Made DAILY Content for Your Social Media.
Just Grab it and Go! 
One of the easiest ways to reach your audience is to go where they are…and in today's world, that's on social media. Whether it's Facebook, Twitter, Pinterest or Instagram, it's your chance to interact with millions of potential customers.
Of course, staying on top of your social media means having to continuously create engaging content and it's not always easy to find the time. You've got a business to run and plenty of other responsibilities, so how about we just take care of it for you?
That's why we've created our Social Media Booster monthly package that makes it easy for you to fill up your social media multiple times daily. We've done the hard work…you just run with it.
This Content is Easy to Use and Saves You Plenty of Time and Money...While You Grow Your Business
Quality Content Created by Our In-House Writers
Professionally Designed Graphics and Pages to Get You Started
Fully Editable and Brandable Content for Your Business
Easy to Use. Just Download, Edit and Publish Your Content
Sell the Content or Publish it as Free Content. You Choose.
Keep 100% of the Profits. This is Your Content.
Here's What You Get in Your Social Media Booster Pack. It's Enough Content for Multiple Posts, Each Day of the Month...Every Month
This package is full of quality content you can use for your social media. And hey, if you want to use it in your newsletter, on your blog or anywhere else you publish content, GO FOR IT! You get…
30 Monthly Conversation Starters
It's not always easy to get the conversation going on social media, but it's much easier when you've got 30 ready-to-publish conversation starters each month. Get them to start thinking big and improving their lives and they'll keep coming back for more. Each conversation starter is a thought-provoking question, designed to get your followers to reflect on themselves and ultimately take action.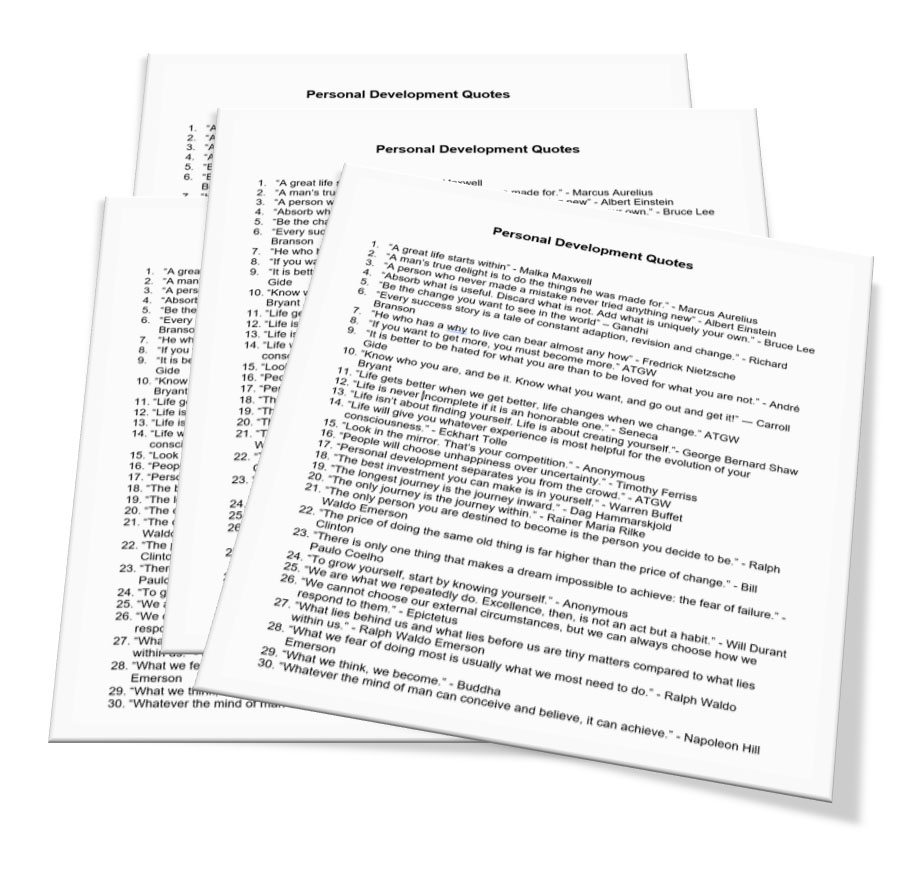 30 Monthly Personal Development Quotes
People love to read and share thought-provoking quotes. We hand select 30 quotes to make it easy to schedule in Hootsuite or your preferred social media management platform. Or just post them as you go…it's all ready to copy-and-paste.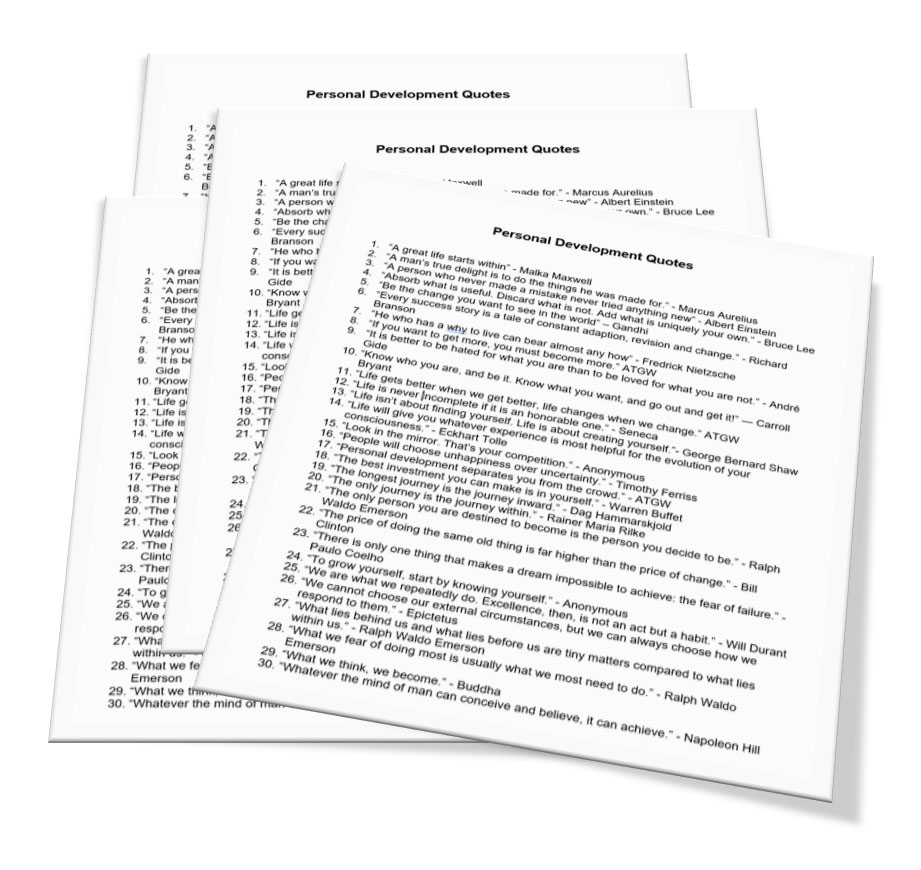 30 Monthly Personal Development Tips
Reveal yourself as a great source of advice by sharing helpful personal development tips. We get all the tips ready for you…you just post 'em. You can even repurpose these tips into blog posts, autoresponder messages or whatever you'd like.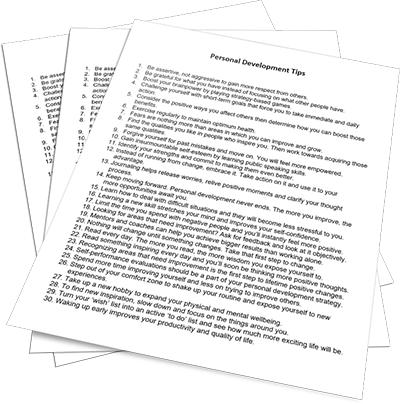 30 Monthly Graphics for Your Social Media and More
We take 10 of the conversation starters, 10 quotes and 10 tips and create gorgeous, professionally-designed graphics that you can load to social media, add to your blog posts or even include in your newsletters. Brand them with your URL and more. You get the JPG for quick posting and we've also included PSDs of all the graphics, so you can edit them as much as you'd like.
10 Conversation Starter Graphics

10 Personal Development Quotes

10 Personal Development Tips

This Content Isn't JUST for Social Media. Here are a Few Brilliant Ideas to Make the Most of Your Content
Smart content publishers don't just content once…they reuse and repurpose all day long. This is the kind of content you can use over and over again. Here are a few ideas for you:
Schedule the tips to your social media. If you use a tool like Hootsuite or even the Facebook Page scheduling feature, you're good to go.
Load the tips to your autoresponder. BAM! Tons of great thought-provoking content. Just add a little greeting and encouragement and you're ready to roll.
Use a content rotator widget on your WordPress site and load the content in. Then you can show the tips, quotes and conversation starters in your sidebar or wherever you'd like to give your readers a bit of encouragement. 
How about a desktop calendar with a tip of the day on it? It could be a real printed calendar or even for their computer desktop.
 Create a Video of the Day. You can share just a quick audio or video tip/quote or conversation starter of the day. Sooo easy! 
Turn it into a slide show. This one is so easy. Just add some graphics, maybe a little music and you're good to go.
More printables! Think magnets, mugs and tshirts. Use these as products for sale, bonuses or special gifts for your customers. 
Use just one of these ideas and you've got yourself a ton more content to share with your audience. But the best part is…
We've Done All The Hard Work… You Just Have to Take This Content and Run with It
Imagine how much time and effort we've saved you in getting all these ready-to-publish content for you to use for your social media and more. Let's take a look at all that's involved with putting together this content on your own…
| Social Media Booster Monthly Content | Time to Create | Cost to Create |
| --- | --- | --- |
| 30 Conversation Starters (.doc) | 1 hour | $65 |
| 30 Personal Development Quotes (.doc) | 1 hour | $65 |
| 30 Personal Development Tips (.doc) | 1 hour | $65 |
| 3 Sets of 10 Conversation Starter Graphics (JPG & Canva Templates) | 4 hours | $500 |
| 3 Sets of 10 Quotes Graphics (JPG and Canva Templates) | 4 hours | $500 |
| 3 Sets of 10 Tips Graphics (JPG and Canva Templates) | 4 hours | $500 |
| | TOTAL TIME TO CREATE: 15 hours / month | TOTAL COST TO CREATE: $1695/ month |
As you can see, it would take plenty of time and investment to put all this together on your own…but you don't have to. We've done the work for you and all you need to is publish the content and get it out there.
Grab it now for only $11.97 per month ($900 / monthly cost to create yourself) for your private label rights license, so you can save at least 8 hours of time EACH month and plenty of money to provide your readers with the information they're looking for. Or hey, save and get tons more content by choosing the $97 per year payment option.
And Hey, When You Sign Up Right Now, You Get This Bonus Content Too

For all our new members, we're including 10 more conversation starters, 10 more tips and 10 more quotes…and each comes with a matching graphic. Preload your social media with even more great content, while you focus on growing your business.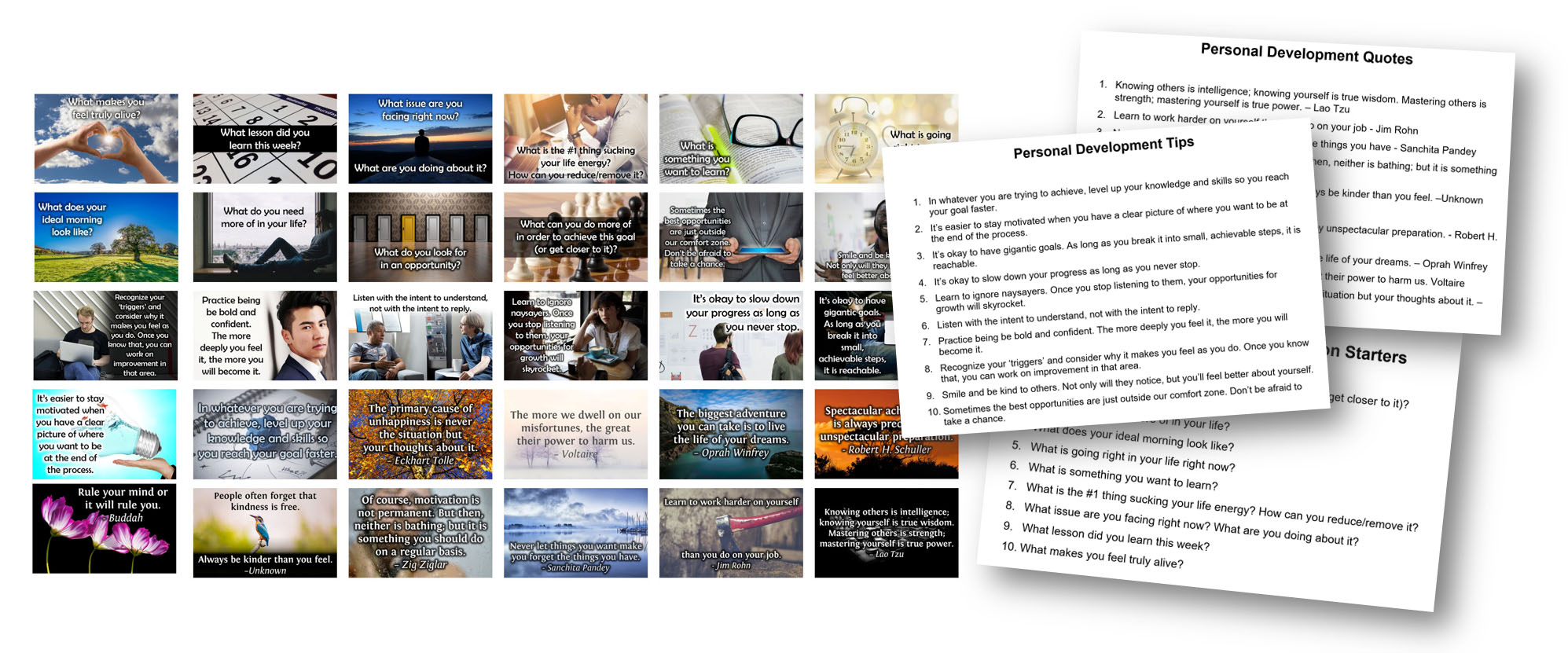 You'll get that bonus content, plus all the monthly content, but only when you…

Join Us for Our Special Introductory Offer…
It Won't Last Long
If you're ready to save tons of time and plenty of money sharing thought-provoking content with your followers, click the "Add to Cart" button below for your license to edit, brand, monetize and publish all this content each and every month, at the best price possible. Special introductory offer ends soon.
Choose from the super low monthly price or just pay once and skip the monthly fees to save even more…
Save Tons of Time and Money
at Just $11.97 Per Month
Skip the Monthly Fees 
& Pay Just $97 Per Year
Use the content for opt-ins, publish it to your blog, social media and more. Or sell the content as part of an information product, add links to affiliate products or promote your own products. The choice is yours!
To your content publishing success,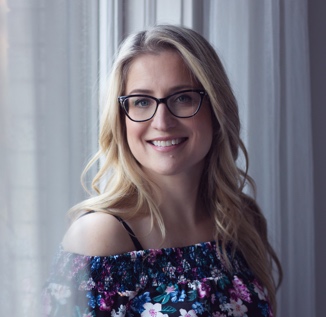 Alice Seba 
Your Partner in Easy Content Publishing
P.S. You've got more important things to worry about than coming up with content or making graphics…and we've done the work for you at a fraction of the cost of hiring someone. Click here to make your social media content creation dead simple. 
P.P.S. The special introductory offer, including bonus content, won't last long. Click here to get it.