Being Kind Is As Good For You As It Is For Others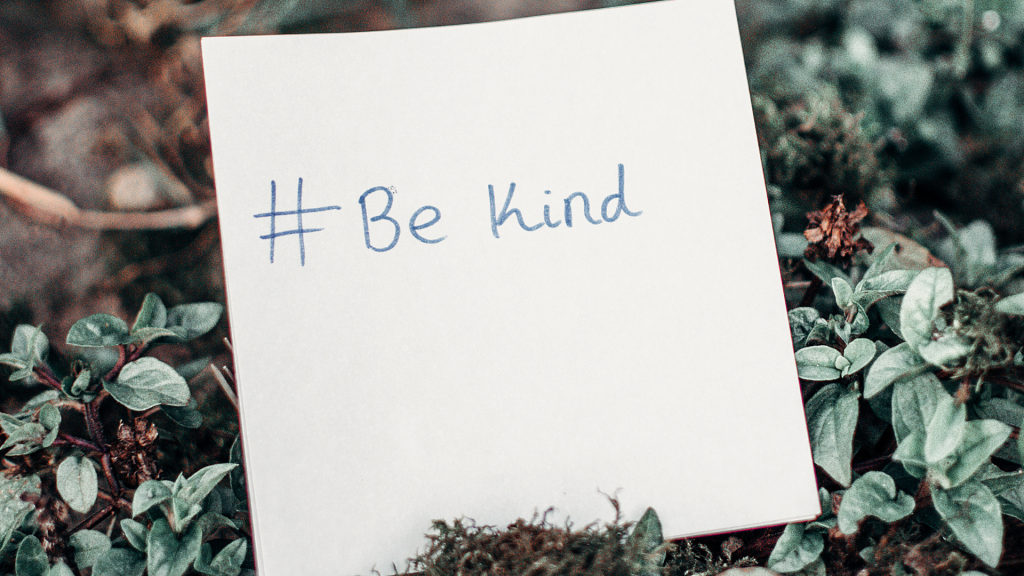 They say: "It costs nothing to be kind." And it is true!
This is one of the most profound things I've ever heard and the most meaningful things I've taken on in my life. Not always with complete perfection … but I try.
We have no idea what is going on in anyone else's life … on a grand scale or in one particular bad moment.
So when a customer is upset, it's rarely just about the files they can't download or them misunderstanding your offer.
Or when the person in the parking lot flips you the bird when you make an innocent mistake or even when they are completely in the wrong ….
Or when your partner is a little grouchy when they come home from work and you take that on as something personal.
When we get into our defensive mode, it does nothing to help the situation. And really, just makes it worse. Every. single. time.
Step back and hear what they are saying – even when it's expressed without direct words. Don't make it about you.
Help that customer resolve their issue; issue a refund if necessary. Don't even address any personal attacks, just deal with the issues kindly and professionally. Better yet, outsource all your customer support to a 3rd party who won't take it personally and can deal with it professionally.
For the uptight drivers, I usually flash a peace sign or wave … but if they're really mad, I do nothing. No need to provoke. And the reverse it true, when someone else messes up, be kind. Mistakes happen and yes, you could have died … but you didn't. Be grateful.
I haven't experienced a grouchy partner in a long time, but you know what I'd do if I had a partner who came home grouchy? If he was receptive, I'd rub his back, get lost in the healing feeling of touch and patiently allow it to work it's magic on the grumpmeister. Then we'd both be happy and connected once again.
There is something about humanity where we feel we don't want to be in a one-down position and I agree. I'm not going to kiss the boots of any a**hole. But I'm never going to stoop to his level either. It costs me absolutely nothing to respond with kindness and get on with my day. But it costs my peace, sense of self and lowers my vibration when I decide to also be the a**hole.
Always be kind – it's as good for you as it is for others. And if you can't do it, have someone else handle it for you. Which may mean buying a massage for your grouchy partner.
P.S. if people are truly unkind and consistently horrible, the best thing you can do is cut them out of your life quietly and without fanfare. To me, making a silent exit is the epitome of kindness.
Be kind to yourself and others.
What to Do Next: Try a sample of our PLR, Ready-to-Brand, Monetize & Publish: "The Power of Kindness Articles" Report Bundle.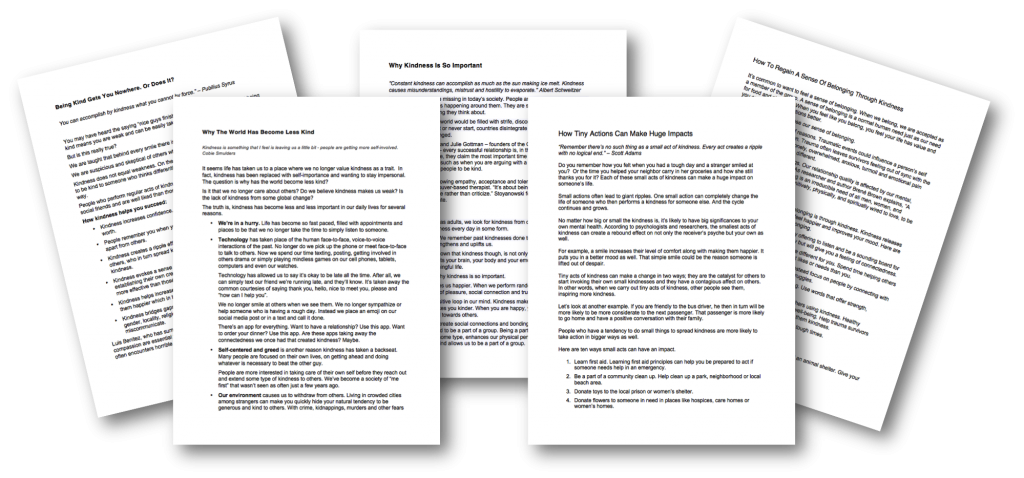 We all want to have enriching lives, but many of us do nothing about it. Help your audience get started on their personal development journey with this 5-pack of articles that you can use on your website, on social media, in your newsletters and more.
Topics include:
Being Kind Gets You Nowhere – or Does It
How Tiny Action Can Make Huge Impacts
Regain a Sense of Belonging Through Kindness
Why Kindness is So Important
Why the World Has Become Less Kind
You can edit them, brand them and monetize them in any way you'd like. Use them as your opt-in offer, to help promote your products and more.
To your great success,

Alice Seba
Your Partner in Easy Product Creation