Leverage New Audiences And Build Your Own Assets
On owning, losing and leveraging your content.
In our businesses, we use a lot of different platforms to grow our audiences and sell our products. Facebook, Instagram, Amazon, Etsy, YouTube, 3rd party shopping carts, affiliate platforms, etc.
A lot of people do only this because it's easy, forgetting to build their own assets they own. Others are weary of using other platforms and as such, miss out on the potential audiences because they don't want to be at the mercy of losing their data or other potential problems.
But there is a sweet spot in the middle. You can leverage new audiences AND build your own assets at the same time.
As you probably know, I lost my Facebook account not too long ago and as a result, hundreds of posts in this group were obliterated. But many of those posts were already on my site or were content I took from elsewhere.
But I must admit, I wasn't as vigilant about curating my own content at the time, but now have a system in place where I am having my posts regularly added to my site, which IS my property (well sort of…more on that in a second).
By the way, many platforms you use allow you to back up your data, Facebook included and in intricate detail. Everything you've posted or action you have taken can be downloaded. It's in your settings under "Download my information."
Personally, I think it's good to have a back up, but downloading a back up you aren't using doesn't seem particularly useful to me. That's just preparing for an emergency and if an emergency happens, you still have TONS of work to do. That's why we're actively taking posts and publishing them elsewhere. Putting all this awesome content to multiple uses right away.
Because when you think about it, you may "own" your own domain…but you could lose it. Domain registrars have this power.
You may "own" your website, but you're at the mercy of your web host's service and security that you don't get hacked or otherwise lose it all.
You may also own your email list, but Aweber or GetResponse may decide to shut you down…or they could go out of business without warning.
So obviously, back ups are definitely part of the answer.
And having systems in place to reuse and repurpose your content regularly are even better.
But I also think it's important to realize that things can and WILL go wrong. So horribly wrong and we can lose a lot…but we can always rebuild. And if you've got your content in a lot of places already, a loss of one asset can't hurt you too much.
Here's an easy way to keep that content you've already worked hard on (or paid good money for!) working for you.
Before You Go: Get 10 Free Articles to Practice With
Put what you learned into practice with a free 10-pack of articles on the topic of journaling. You get 10 quality articles, complete with private label rights that you can brand monetize and publish as your own.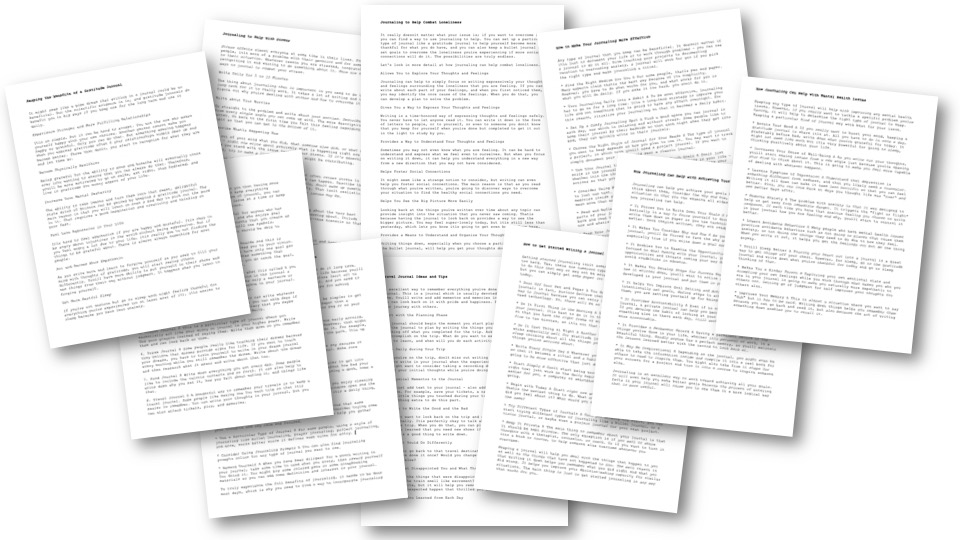 Hope you can put those to good use. We've already done the work, you just publish!
To your great success,
,

Alice Seba
Your Partner in Easy Product Creation
—
Join me, any my special guest instructor, Justin Popovic from Tools For Motivation. In this session, you will learn insider information on how some of the most savvy business owners are turning done-for-you (PLR) content into a steady flow of revenue generating products/courses.
Justin will also share some real-world, practical examples of how PLR content can help you…* Build the know, like, trust factor to make selling your offers a breeze.* Spoil your subscribers so they never want to leave your list… while turning them into repeat customers* Create a WOW factor for new people visiting your site for the first time by creating free blog posts that you "COULD" charge money for… and do so in less than 10 minute* Gain a huge competitive edge by creating visually stunning ebooks, presentations, handouts and more… even if your design skills suck.
Save Time And Make More Money In Your Business Using Done-For-You Content