Focus On Publishing Content Over Creating Content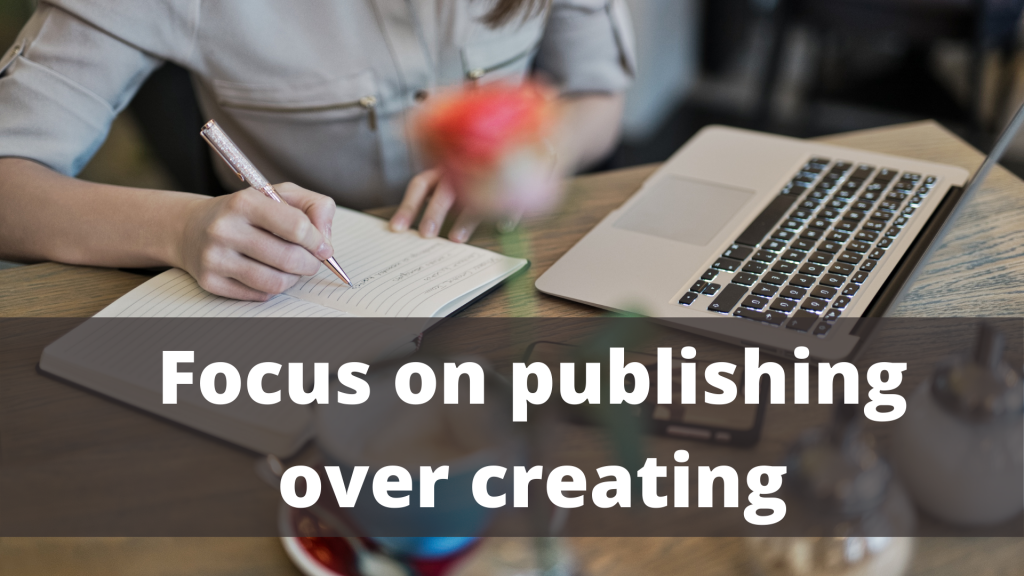 Not sure about you, but Sunday is planning day for me. And I thought I'd share a few thoughts on making this a productive and profitable week for you.
Here are two simple things to keep your focus on the right things…
Spend time planning your week. Even if you're not a planner, get into the habit. By nature, I'm not a planner…I'm a go with the flow and see what happens kind of person, but I know if I do this with my business, it's not going to go as well. So I plan my work time, things I'm going to accomplish, delegate a bunch of stuff and leave plenty of room for adjustments.
And when you make that plan, make sure it includes plenty of focus on PUBLISHING. Whether you do that work yourself or delegate it, it doesn't matter, your business needs to be publishing to be seen. That could be posting new content on your site or on social media. Adding a new lead magnet. Setting up a Facebook or Google Ad. Sending emails to your list. It's something that should be done daily for your business.
And remember, when I say PUBLISH, I choose that word very carefully. I don't say "write" or "create" because you don't want to spend too much time creating because that isn't what grows your business. I mean, it's fun and you may enjoy creating (me too), but it's the actual publishing that grows your business.
You can put more focus into publishing over creating by:
Using private label rights content…you know we've got you covered.
Hiring someone to create content for you. Psst…we've already done this for you as well. We hire the content creators and you can just buy our PLR. 
Leveraging interaction with your audience. Encouraging them to leave comments, talking to them in your Facebook Group, asking them to submit stories, photos, etc. Then repurpose all that engagement by publishing it in other places too.
Keeping the content you create simple. Sometimes a simple photo can say a whole lot. Or give them little bite-sized food for thought. As long as it has meaning or entertains your audience in some way, that's exactly what you need.
Have guest contributors, host a webinar or interview someone. Bringing in new ideas and perspectives makes you a hub of good information. Use this to your advantage.
There are so many ways to keep publishing without wearing yourself out in the process. Leverage all the opportunities you have to engage your audience so they keep coming back to you.
TRY A SAMPLE OF OUR DONE-FOR-YOU CONTENT 
Ready-to-Brand, Monetize & Publish: "Increase Your Focus for Better Productivity" Report Bundle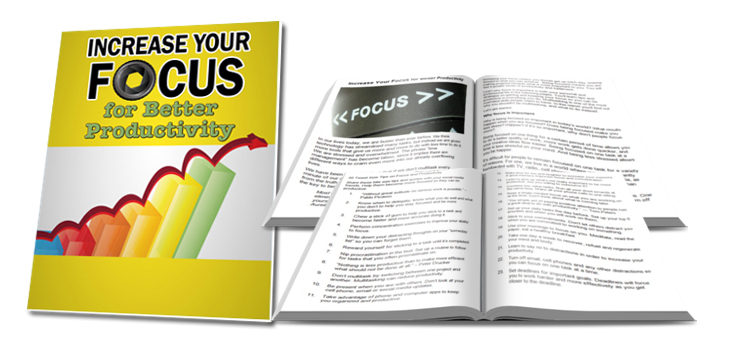 Your Done-for-You Content Bundle Includes:
Increase Your Focus for Better Productivity illustrated private label rights (PLR) report (3,897 words / 8 images) will teach your readers why focusing is so important in their lives.  Topics include:
Why focus is important
Multitasking
Tips to improve focus
Strategies to improve focus
Exercises to improve focus
How to deal with focus issues
Using applied focus
Getting started
You can edit them, brand them and monetize them in any way you'd like. Use them to drive traffic to your opt-in offer, promote your products and more.
You can edit them, brand them and monetize them in any way you'd like. Use them as your opt-in offer, to help promote your products and more.
To your great success,



Alice Seba
Your Partner in Easy Product Creation